We want your first connection with us to feel like you're right at home. Your first visit will provide an opportunity to address any questions or concerns and review your health and wellness goals. When you arrive you'll complete some brief paperwork to establish your care. We'll review your full history, complete a detailed assessment and even administer your first adjustment. Our goal is for you to leave not just with a better understanding of what's causing your pain or concern but for you to be feeling better too!
Please allow about 40 minutes for us to complete the full visit.
New to chiropractic care?
It's common to feel nervous when visiting a chiropractor for the first time. We're happy to address any questions or concerns you might have regarding the new patient process or chiropractic in general. Our goal is to help ease any of the reservations that come with trying something new. Dr. Jordan takes pride in providing a professional yet relatable approach, helping you feel comfortable every step of the way. For questions regarding the benefits of chiropractic or about any part of the patient process, we're only a phone call away!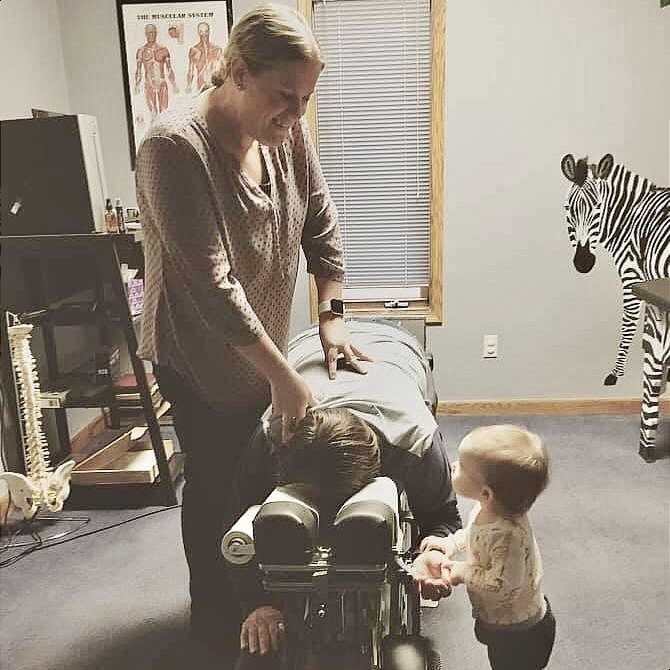 "Dr. Jordan is amazing!
So comfortable in her office."
Common Questions & Answers
Q: Do you take insurance?
A: Our goal is to make sure you and your family receive the type of care you want, need and most importantly, deserve. This requires us to move away from the typical medical model of healthcare where insurance companies dictate the type of care they feel you should receive. Although we are not in network with insurance, we do appreciate the effort that paying out of pocket entails and have constructed our pricing to be easy and affordable.
Q: How much does it cost?
A: Our mission is to keep costs simple and affordable.
Adult visits (13 years and older) are $40 per visit (includes first visit)
Children visits (12 years and younger) are $25 per visit (also includes first visit)
Q: Do you accept walk-ins?
A: To avoid unnecessary wait times, we ask that you call and schedule your appointment ahead of time. We'll be happy to get you in on the same day as long as it's available!
Q: Do you only see women and children?
A: Although Dr. Jordan holds specific training in prenatal and pediatric care, EVERYONE is welcome at LFC! From newborns to young athletes to those in their retirement years, we see a wide variety of patients and welcome them all!
Q: Why do kids need a chiropractor?
A: Physical stressors come from many different places and affect us all, including children and babies. Whether it comes from jumping off the couch, playing outside, fighting a cold or going through the traumatic experience of the birthing process, subluxations cause pressure on their nervous system keeping them from performing at their best. Adjustments for the little ones are gentle and safe.
Q: What are the benefits of chiropractic care?
A: Chiropractic provides proper alignment of the spine and nervous system which will help allow the body to operate at its optimum level. 
Benefits include (but aren't limited to):
Back Pain
Neck Pain
Headaches
Ear and Sinus infections
Vertigo and Dizziness
Stiff neck and shoulders
For kids:
Bedwetting
Ear infections
Constipation
Colic
Improved Sleep
Ready for a visit? Have a question?
We're happy to help however we can!
Please fill out the form below!